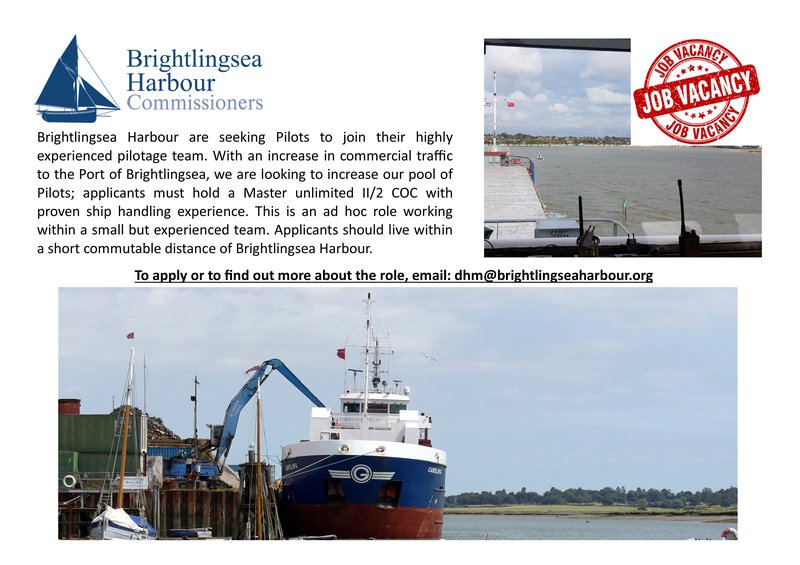 Working For Brightlingsea Harbour
Brightlingsea Harbour has a local workforce who work year-round to ensure all users get the best experience possible.
We have varied roles, which quite literally change with the seasons.
In the Winter maintenance is the primary concern, incremental staff are required for:
Marina Dredging
Pontoon Jet washing
Painting
Planking Repairs
Grounds Maintenance
In the Summer Marine operational staff are required for:
Taxi Coxswains Days and evening
Ferry Coxswains
Charter Ferry Coxswains to Colchester, Rowhedge and Wivenhoe (must be commercially endorsed or hold an MCA issued COC)
Harbour Assistants
we are also always looking for local suppliers who can work with the harbour to use local resources.
To operate any of the harbour vessels you must be qualified to at least RYA level 2 Powerboat, must be over 18 and ideally hold a First aid certificate.
Please send CV or requests for further detail to the Deputy Harbour Master, Harbour Office, 4 Copperas Road, Brightlingsea Essex CO7 0AP or dhm@brightlingseaharbour.org
Brightlingsea Harbour Apprenticeships
Why we do it
In a recent skills survey of firms into the employment needs of marine based companies in the south east, 61% of respondents felt their current workforce met their future business needs, but 75% were concerned about an ageing workforce.
All businesses in the new and used boat sales and chandlery sectors reported that they were lacking employees with soft skills needed for the future, meaning that opportunities exist within these sectors for young people.
It is inconceivable that this same issue does not exist throughout the UK marine sector.
Businesses complain that the current education system does not prepare young people for work, many of those businesses do not offer work experience and more than half are not planning to recruit an apprentice at least in the next 12 months.
Brightlingsea Harbour Commissioners realised that this problem must be addressed, there is no point in complaining and that the only way of introducing young people into the industry is to take them on and train them. There is a cost however as a 'not for profit organisation' it made sense to invest in Apprenticeships so that we can play our part in revitalising the industry, although there are incentives out there it was more important to us, that we were able to create a well trained and fully employable operative. So as well as covering the Level 2 Apprentice schedule, we decided to add Advanced boat handling skills, a medical, VHF operators licence, First Aid, Sea survival a PPR course and commercial endorsement. In addition we would send them, to other marine businesses so they are exposed to other workplaces, then following 18-24 months with us we actively assist them in finding a new employer. The long term benefit to the Harbour is not obvious, however the former apprentice will help the industry move forward and endure which means Brightlingsea Harbour will continue to serve customers well into the future.
Brightlingsea Harbour in association with British Marine and Paragon Skills offers the chance to 'earn while you learn' on the Marina & Boatyard Operative apprenticeship.
The apprenticeship lasts 18 months as a minimum and on completion the candidate will have achieved a Level 2 as a Marina & Boatyard Operative along with an RYA Advanced Power Boat Commercially Endorsed licence, allowing for the candidate to work on commercial vessels up to 24m in length, operating in category 3, 4, 5 and 6 waters - that is up to 20 miles from a safe haven.
Marina and Boatyard Operatives deliver a variety of operations and services that include vessel handling, lifting, launching, high pressure washing off, the storage of vessels ashore and the berthing and movement of vessels on the water. Marina and Boatyard Operatives conduct regular maintenance activities and checks around the marina and boatyard, and this may include work on pontoon systems, buildings, storage cradles, along with maintenance and checks within public areas and wider facility buildings. Operatives may undertake specialisms in retail, fuel, rigging, or lock and bridge operation.
Brightlingsea Harbour takes on one new apprentice annually, with a start date in May of each year. There is a fixed salary which increases over the 18 months based on qualifications and skills gained during the apprenticeship. The apprenticeship is full time, with some weekend and unsocial working hours required. There will also be a requirement to undertake training at marine service suppliers, other than Brightlingsea Harbour.
Minimum application requirements are as follows:
Maths and English at level 1 and has taken the tests for level 2
The ability to pass an ENG1 or ML5 seafarers medical without restrictions
Must be 18+ within commuting distance of Brightlingsea Harbour
We accept applications throughout the year, with interviews conducted in March / April for a May start.
If you think this could be of interest to you, or would like some more information please send a CV or requests for further detail to the Deputy Harbour Master, Brightlingsea Harbour Office, 4 Copperas Road, Brightlingsea, Essex, CO7 0AP or dhm@brightlingseaharbour.org